Map Legend GeneralMap Layout/Style
Polylines (Highways):
Explanation: There are 6 layouts in total. Colorwise however "thin", "wide"  "clas" are all the same. Easy and Hiking are only slightly different. They only differ in the width of the lines to best match the different GPS. The mapsource/Qlandkarte GT layout (referred to as "trad" from now on) however has different colors, with less contrast. Therefore in this mag legend for Polylines (Highways) there are always two examples. One using the "trad" layout (on the top), and one using the "clas" layout below).
Please note, as this question often pops up, many variables like tracktype are just munged together from other keys like smoothness or surface. If you want to know what is the primary factor please read the sourcecode of the style-file (see FAQ).
Thin, Classic or Wide?
This choice exists only for the standard layout. It depends on your device DPI which to choose. Thin has the thinnest lines - it is suited for older low DPI Garmin GPS devices. (60CSx, Dakota). Classic is in the middle (similar width to easy, trad (desktop) and hiking layout) - it is suited for devices like Vista HCx, Etrex 20/30, edge 705. Wide layout has the widest lines - it is for high DPI devices like Oregon, etrex 30x, Colorado, or edge 1000. Most Garmin devices presented 2015 or later fall in that category. Because traditionally the high DPI devices had lower contrast - the Wide layout has highest contrast. It looks pretty bad on desktop use though.
Quick guide to the colors used for ways and tracks:
Red=tracks which are wide enough for a car to pass. Unpaved - the smaller/more dottet the segments of the line are - the worse/less even the surface.
Black/Grey/: Cycleway or paved track.
Green: Singletrail / small trail with mtb classification (mtb:scale) - from 0 easy to 5 (good trial skill needed) - again the smaller the segments - the more difficult
Brown: Path - usually rated according to the Swiss Alpine Club hiking trail classification. Again - the smaller the segments - the more difficult.
In general for brown/red/ ways: If a way is not rated for difficulty - it will be shown as continuous line.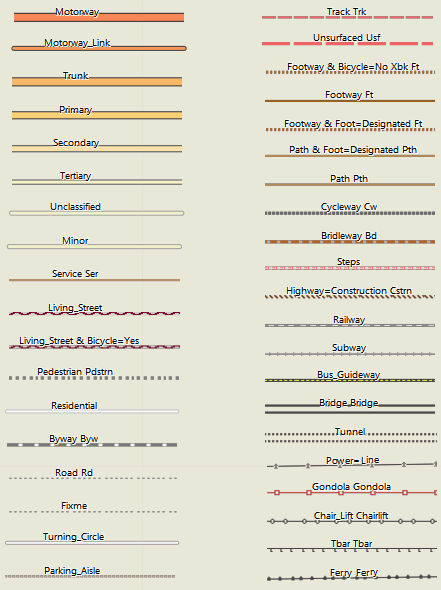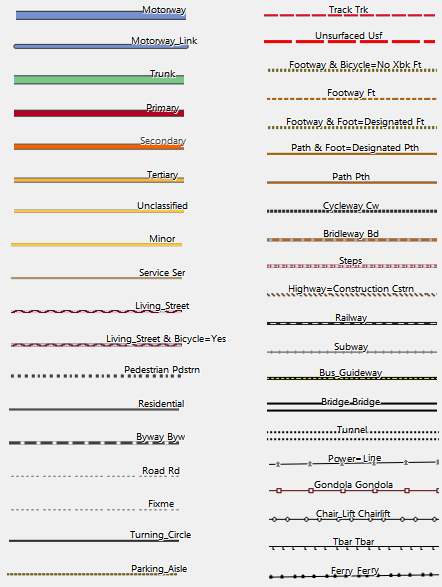 Ways with mtb attributes or sac_scale (clickable thumbnails for full size)
Additional ways and lines (clickable thumbnails for full size)
Points of Interest
Restaurants and Shopping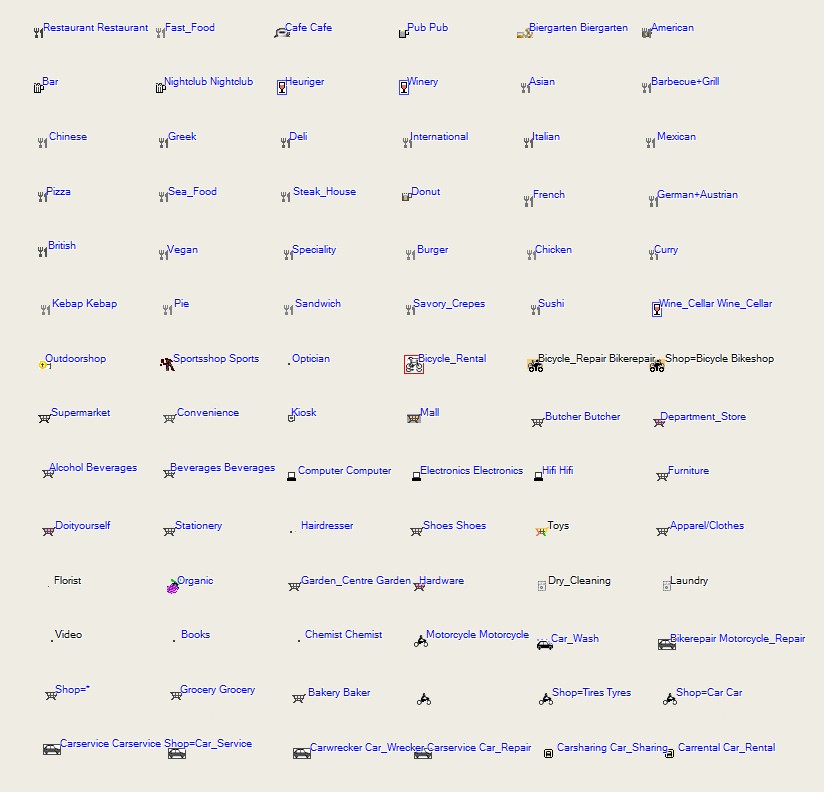 Sport and Tourism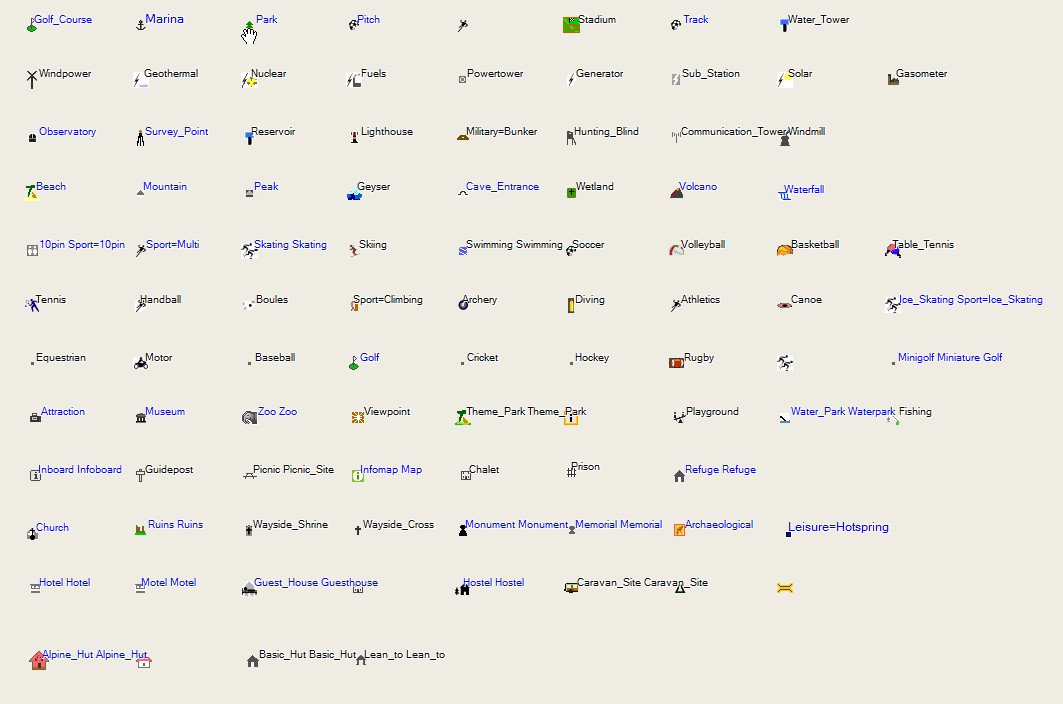 Municipal and other POI
Areas
Landuses: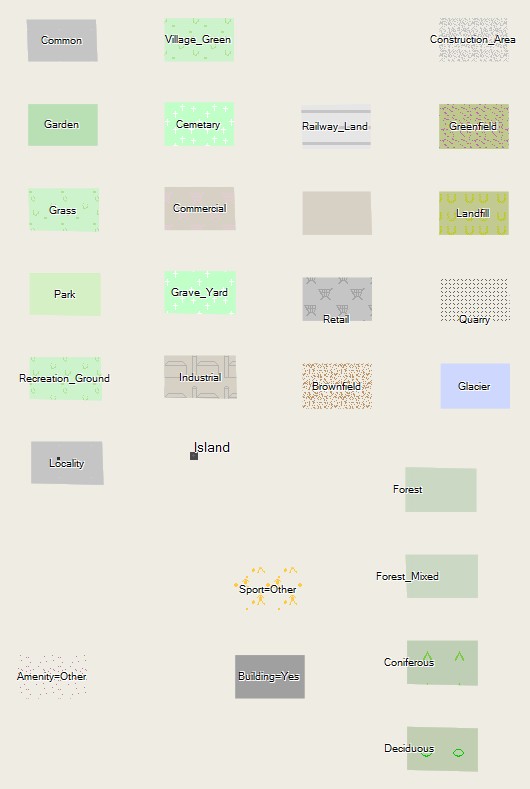 Sport and Public Places: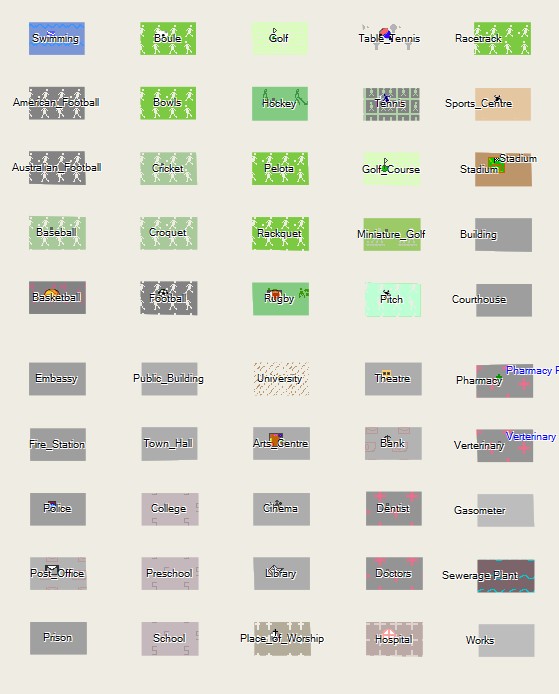 Natural and Tourism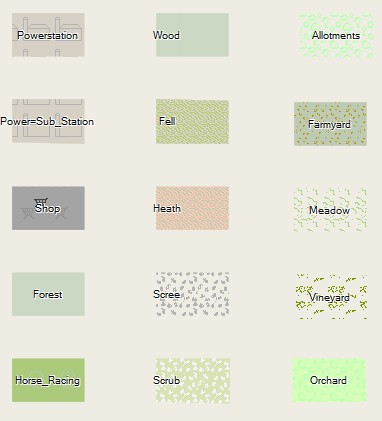 Abbreviations and Highway Attributes:
M12 / Mn34 -- the first number is the mtb:scale, the second number the mtb:scale:uphill. "n" stands for the way being part of a mtb route/network. See:http://wiki.openstreetmap.org/wiki/Key:mtb:scale
G1 -- tracktype=grade1 See: http://wiki.openstreetmap.org/wiki/Tracktype
Note however - that I also map the keys smoothness and surface to tracktype G value. So I try to get the best value - also if it may contradict with the actual value for tracktype.
T2 -- sac_scale=T2 (mountain hiking) See: http://wiki.openstreetmap.org/wiki/Key:sac_scale
Tv6=Trail_Visibility (6=no, 5=horrible,4=bad,3=intermediate) https://wiki.openstreetmap.org/wiki/Key:trail_visibility
Xbk --bicycle=no
Routes
See: http://wiki.openstreetmap.org/wiki/relation:route
Cn= Cycleroute / Cycle Network
Mn=Mountainbike Route
Hn=Hiking Route / Hiking Network
Wn=Walking Route / Walking Network
Differentiated by importance as follows (for Mountain Bike Routes as example) - if classified. If not it`s simply Mr.
Imn = International
Nmn = National
Rmn = Regional
Tmn = Touristic
Lmn = Local
Mn= unclassified Mountainbike Route
Rmn34 would be = Regional Mountainbike Route, mtb:scale=3, mtb:scale:uphill=4
Lmn3. = Local Mountain Bike Route, mtb:scale=3, mtb:scale:uphill=unknown.
Highways
See: http://wiki.openstreetmap.org/wiki/Key:highway
Pri=primary / primary_link
Sec=secondary
Ter=tertiary
Cw=cycleway
Min=minor
Unsf=unsurfaced
Uncl=unclassified
Living=living_street
Pdstrn=pedestrian
Trk=track
Pth=path
Ft=footway
Fp=footpath
Brdlw=bridleway
Rd=road
Byw=byway
Ser=service
Cyclelane/Cycletrack
See: http://wiki.openstreetmap.org/wiki/Key:cycleway
Bklane=cycleway=lane
Bktrk - cycleway=track
Opp - cycleway=opposite
Opptrk - cycleway=opposite_track
Note: the first letter is always capital - I dropped proper usage of small/capital letters because it creates problems on quite a few older Garmin devices.
The OpenMTBMaps and VeloMaps come with several different layouts/styles (also known as .typ-files)
There are three main categories:
a) the default layouts - Classic/Classic_Legacy/Wide/Wide_Legacy/Easy/Hiking/Winter/Fenix
The legacy layouts feature the german highway colours (blue/green/red/yellow/white) while the other layouts colour streets from orange/yellow to white similar to google maps. They are all high contrast because they are intended to be used on small screens and with varying levels of sun/shade. On a desktop/laptop sized display they do not look so nice - but enable very quick distinction between kinds of streets or pathes.
b) The desktop layout - (trad/trdn)
This is a low contrast layout only to be used on desktop/laptops - on your GPS device the lower contrast will make it harder to read (only useful if you want to have better contrast for tracks or routes)
So below screenshots of all layouts on a desktop to show the difference: