Prima di tutto come ho scritto sulla pagina precedente (Participare) i tag rilevanti per i Mountain Biker su OSM sono indicati qui:http://wiki.openstreetmap.org/wiki/Mountainbike
Se siete dei principianti ed avete dubbi su come inserire i dati su OSM, qui trovate una piccola quida veloce (per ulteriore aiuto controllate le wiki di OSM su Potlatch / JOSM), Potlatch è l'editor che potete vedere quando cliccate su Modifica sul sito openstreetmap.org, Josm offre molte più funzioni ma un pò più complicato ed è un programma separato (richiede il Runtime Java):
Josm
Josm ora include il tag mtb:scale nei modelli per i sentieri e le strade sterrate. Per i tag incline e mtb:scale:uphill; mtb:description; mtb:scale:imba o altri, potete aggiungere a mano le chiavi ed i valori cliccando su "ADD".
Per le chiavi che non sono disponibili come modello potete sempre aggiungerli come mtb preset da qui: Josm Presets o inserirli direttamente cliccando su  "ADD".
Esempio Josm: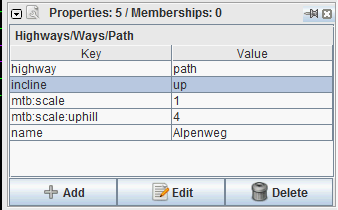 ID - editor
ID is the new default editor on openstreetmap.org. After a few years development it now actually got quite useful (though not as powerful as JOSM).
Heres a walkthrough with pictures:
The default layout is again only for beginners and  very confusing for anyone wanting to edit MTB stuff. So we click on "All Tags"

and find a nice list with all the tags on the object. to add mtb:scale - just click on the "+" button.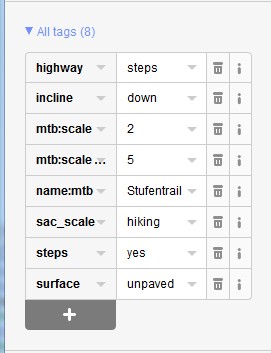 If you click on the "i" button - for many keys you get a direct link to the wiki to find out their meaning. This however is still a bit patchy and doesn't show all keys that are defined for OSM in the wiki.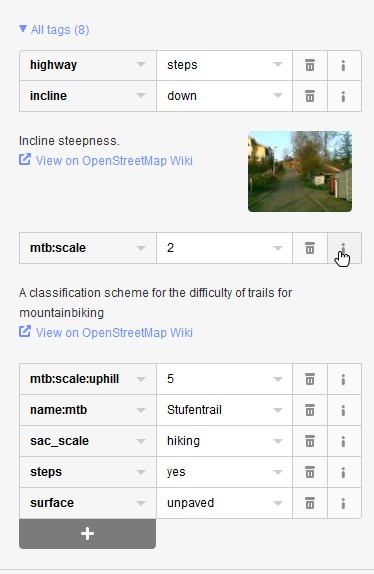 Very Important - if you add incline key in order to specify the direction of the way. Look at the tiny arrows on the way/line to know the direction.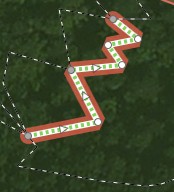 Potlatch
With '''Potlatch''' after selecting a way click at the bottom onto "Advanced"

And then by clicking onto "Add" you can add any key you like plus the value.